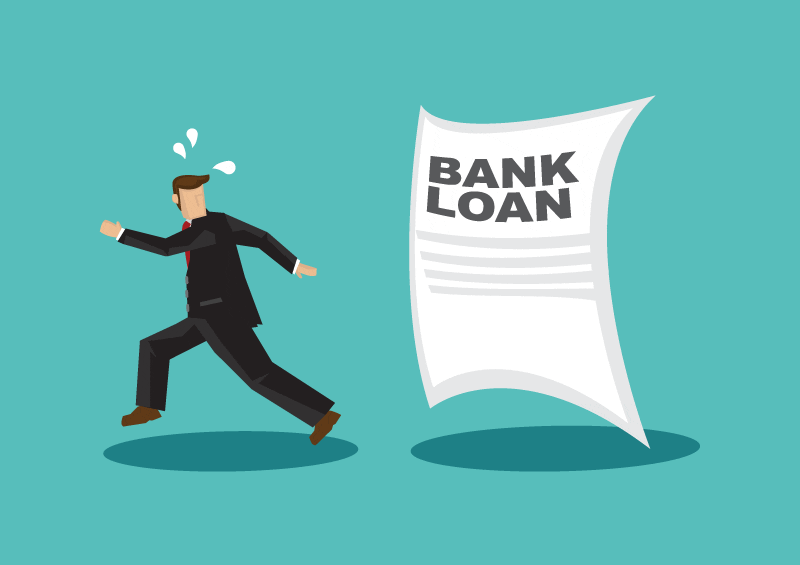 When you get in a financial crunch, it's just as important to know what loans to avoid as what loans to pursue to remedy your situation.
High interest rates, short repayment times and disastrous consequences for defaulting are common threads in the very large family of loans to avoid. Payday Loans (average interest rate between 391% and 521% APR) are the most notorious loans you want to avoid, but there are plenty of other players you should be aware of.
Car Title Loan
Car title loans are some of the worst loans to avoid. You put up your car title as collateral and receive a loan amount worth 25-50% of the car's value. The interest rate on a car title loan is usually 300% and must be paid back in 30 days. If you take out a $500 loan, that means you are required to repay $625, plus any fees, in 30 days or your car get repossessed.
These loans are especially popular among military members so federal law was passed saying that service personnel and their families could not be charged interest rates higher than 36% for a loan with a term of 181 days or less to repay.
The chance you might lose your car should be reason enough to avoid car title loans. If not, the fact the government has to pass a law limiting a specific type of loan, should tell you all you need to know about the disadvantage of taking out this one.
Cash Advance Loan
If some business will not take your credit card, you can pay an extra 3-5% on the amount withdrawn plus interest to your bank and receive a cash advance. The interest charges begin the moment you withdraw the money from a bank.
The same thing – pay a fee from 3-5 % of the amount withdrawn and interest daily starting the day you complete the transaction — works at ATMs, too.
Cash advances are OK in dire emergencies – such as a mechanic who'll only fix your car for cash – but should be avoided in all other situations.
Overdraft Protection Loan
Most banks offer overdraft protection on checking accounts, which allows you to draw money from the bank, even if your account balance is $0. The average bank fee for overdraft protection is $30-$35 each time it occurs.
If you are out of money already, how does adding a $30 service fee help?
Private Student Loan
While the bulk of student loans are made through the federal government, private student loans are available from banks, credit unions and other lending institutions.
Most private student loans have variable interest rates that are higher than the fixed rates offered by federal loans. Private student loans do not offer the flexible repayment options that federal loans do. Private student loans require a credit check, while federal loans do not and offer few options to reduce or postpone your payments.
In other words, virtually every angle of taking and repaying a student loan is worse from a private lender than from the federal government. A private student loan should only be used as a last resort.
Pawn Shop Loan
You need money fast, so you take something you own, like a piece of jewelry, a computer or some other valuable to use as collateral for a pawn shop loan. The pawn shop lends you an amount that is a percentage of the item's value and gives you a short window – usually between 30 and 90 days – to pay it back with interest.
Most states have statutes that limit the interest rate charges allowed, but it can still be as high as 120% APR. The real problem, however, is the added-on fees for service, storage and lost ticket. Those can add up to more than what you paid in interest charges.
No matter what loan you choose, make sure you read the entire agreement, especially the fine print, to understand how much it will cost you, how long you have to repay and what the penalties are if you default on the loan. Do not sign off on a pawn shop loan until you understand all the terms and conditions.
Loan Scams To Be Aware Of
When you are short on money and bogged down with a poor credit score, any offer for a personal loan might sound good, but this is the ultimate "Buyer Beware" situation.
There are plenty of scam artists waiting to take advantage of you by offering personal loans through online website advertisements or flyers mailed to your home that claim that they will guarantee you a loan, regardless of your circumstances.
That might be the case, but that is one of many warning signs that you might the victim of a loan scam.
Here are some other signs that you could become a victim:
Upfront fees. The lender may try to disguise these as application fees or document fees or give them some other name, but the fact they are asking you to send them money in order to loan you money is a strong sign you're getting scammed. Legitimate lenders must disclose all their fees and typically roll them into the cost of the loan.
Phone offer. It is illegal to make loan offers over the phone. Any offer must be put in writing and prominently mention all associated fees.
Wire transfers, especially to individuals. If the lender wants you to wire the money for any fees, this is cause for concern. Always ask for a physical address for the lender and contact the Attorney General's office or Financial Regulations office in that state to verify it's a legitimate business. Never wire money to an individual.
No interest in credit history. Legitimate lenders will evaluate a person's creditworthiness before making a loan. Do not listen to claims like "bad credit, no credit, no problem." There is a problem…for you.
Copycat name. Scam artists will come up with a business name or website that looks or sounds genuine in an attempt to appear legitimate. It is best to check with the Better Business Bureau to authenticate the address and phone number. Be wary if the mailing address is a PO Box.
Personal information. Do not give out your social security number, date of birth, bank account number or other important personal information unless you have taken steps to prove you're dealing with a responsible lending institution. That information can be used for anything from identity theft to stealing from your bank account.
View Sources